Online Essentials Course
Default Title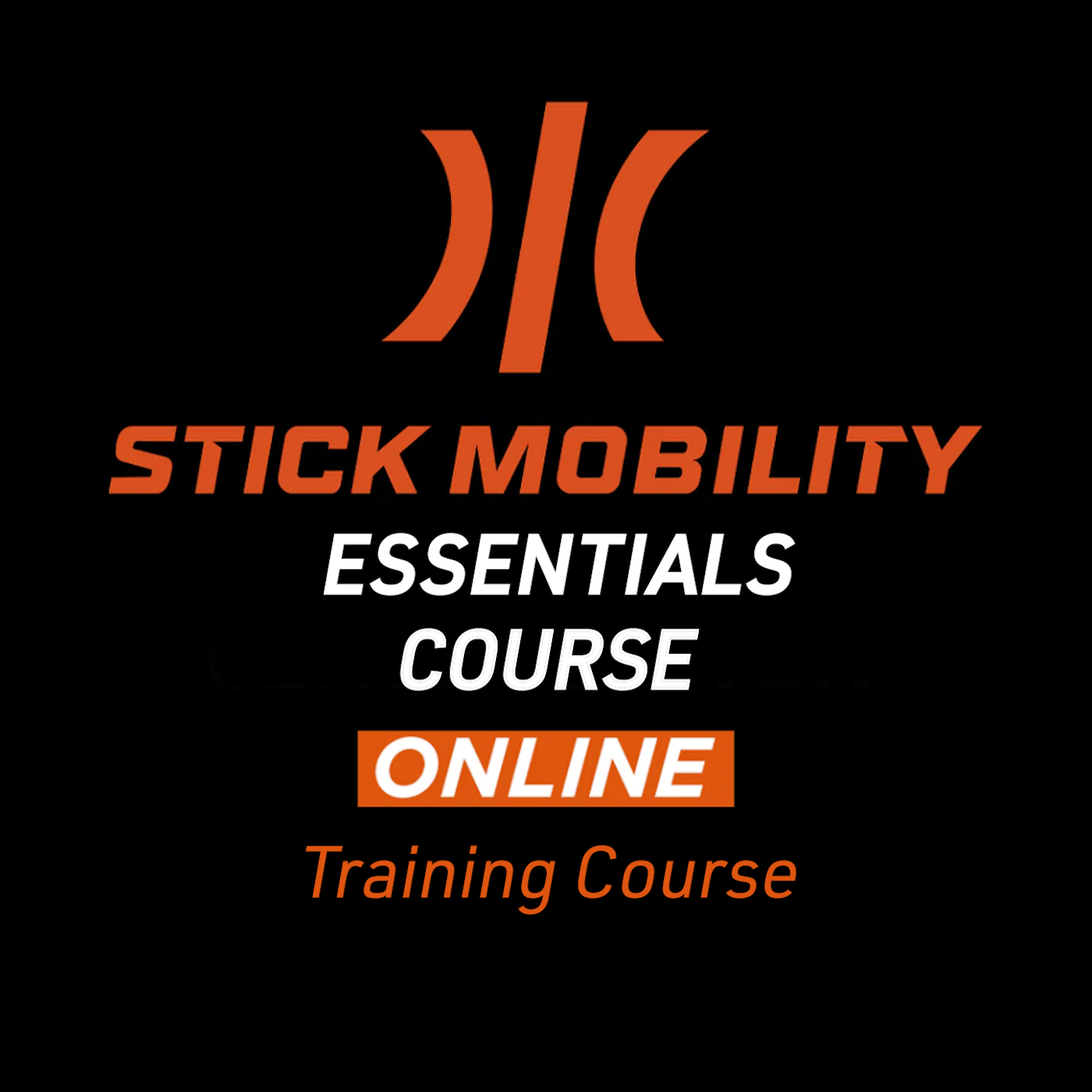 Online Essentials Course
Free Shipping on Orders over $180
Size Chart
Help Me Choose
4-5ft Training Sticks
Used for ground-based & kneeling exercises, including upper body, hip stretches, some rotational drills and lower body stretches
6-7ft Training Sticks
Used to work both sides of the body. These drills involve hanging, twisting, pushing, and pulling in opposing directions to challenge your coordination and help strengthen and balance the body.
Standard or Heavy Duty Sticks?
Heavy Duty Training Sticks are only recommended for users who are over 250 lbs or are exceptionally strong.
The majority of our users, including pro athletes, prefer and use the Standard Training Sticks. They are much more versatile than the Heavy Duty sticks due to their ability to flex more and accommodate a wider variety of stretches and exercises.
The Heavy Duty Training Sticks are 25% thicker and offer considerably more resistance than the Standard Training Sticks.
Description

The Stick Mobility Essentials Course is a comprehensive self-paced program designed to equip health and fitness enthusiasts, as well as professionals, with a strong understanding of Stick Mobility. This course provides a deep exploration of the underlying reasoning behind each movement, allowing participants to grasp its purpose and the benefits of Stick Mobility training.
By completing this course, individuals will develop proficiency in utilizing Stick Mobility Training Sticks and techniques, empowering them to apply these skills both personally and professionally.
After completion of the course, participants will possess the necessary skills and knowledge to confidently integrate Stick Mobility into their personal fitness routines or professional practice, promoting better physical well-being for themselves and those they work with.
Safely and Effectively Incorporate Stick Mobility Training Sticks: Gain the necessary knowledge and skills to confidently and safely integrate the use of Training Sticks into fitness routines or client sessions.
Customize Drills for Individual Needs: Learn how to tailor Stick Mobility drills to accommodate the specific requirements and abilities of each individual, ensuring optimal training outcomes.
Understand Scientific Principles: Develop a comprehensive understanding of the five scientific principles that serve as the foundation for Stick Mobility training protocols and exercises, enabling informed application of these principles in practice.
Explore Joint-By-Joint Mobilizations and Active Stretches: Examine joint-by-joint mobilizations and essential active stretches.
Acquire Practical Techniques: Acquire a diverse set of practical techniques that can be applied to enhance overall physical well-being, allowing individuals to support their own health goals and assist clients in achieving theirs.
What's Included?

COURSE PRICE INCLUDES
3-Hours of online training by Neal Valera and Dennis Dunphy
Digital Essentials Course Manual (Downloadable PDF File in English)
Lifetime access to Online Training and Coaching Videos
An official Certificate of Completion
Certified Coaches receive a 15-30% discount on future Training Stick purchases, based on quantity ordered (US orders only)
Continuing Education Credits (ACE 0.3, NASM 0.4, AFAA 4.0).
Course Requirements

You'll need a 3-Stick Bundle to use for the course exercises.
Computer, tablet, or internet-enabled mobile phone with enough bandwidth to stream videos required.